PORTABLE, POWERFUL, MULTI-PURPOSE ALL-IN-ONE RESCUE TOOLS FOR FIREFIGHTERS, POLICE, EMS, SCUBA, AND MILITARY
Lifeline has a simple philosophy – to place the most effective and versatile tactical rescue tool in the hands of all firefighters everywhere. In doing so, we honor our mission to save their lives and the lives of all who live in the communities they serve. When you have a tool that meets NFPA standards, is engineered to military specs, and is the only non-battery operated handheld tool that's like having 5+ tools in one, you give the first responder using it an invaluable advantage in the field. When you have a tool designed to increase the personal safety of a firefighter during structural fires, motor vehicle accidents, and other emergency situations, it's imperative to do all we can to make it standard issue across our nation and around the world.
 To us, it's an obligation to provide every brave firefighter, willing to risk their lives for the safety of others, with a proven portable military-grade cutting machine. LIFELINE Tactical Rescue Tools, designed for firefighters, by firefighters — saving lives by design.

LIFELINE® is proud to have thousands of tools in the field today, from fire and law enforcement departments around the world, firefighters from the U.S. Airforce and members of the Israeli Special Forces.
*All products backed by our Worry-Free Drop and Replace Policy
We have had an opportunity to test the Lifeline Rescue Tool in our flashover facility. After multiple evolutions, the tools have held up and performed flawlessly. Our instructors were impressed with the design and quality of the tool. 

It's Like Having 5 or More Tools in 1 Handheld Device
LIFELINE's multi-purpose all-in-one tool is like having five or more professional cutting tools in one portable handheld device. The size, weight, and design is engineered to be worn on the outside of everyday turnout gear for immediate access.
Patent-pending serrations make it equally effective as other tools that are one dimensional. The LIFELINE FIRE™ is more than a wire cutter or a glass cutter, and it far exceeds the capabilities of any knife in the market. This all-in-one multi-purpose tool is a military-grade cutting machine!
From BX cables to laminated safety glass, its price-point, portability, and the fact that it requires no batteries or charging makes this a vital and invaluable rescue tool for all first responders.

ATTENTION ALL FIRST RESPONDERS:
DOT Ejection Mitigation Laws now require automakers to make side windows from laminated glass. Traditional window breakers are designed to break a tempered glass and can not penetrate laminated windows. LIFELINE FIRE™ Tools effectively cut laminated glass and other materials. It's also lightweight and portable, making it the perfect solution for any emergency.

"New research from AAA reveals that most vehicle escape tools, intended to quickly aid passengers trapped in a car following an accident, will break tempered side windows, but none were able to penetrate laminated glass." ~ AAA Newsroom. Automakers are required to make side windows out of Laminated Glass. This means that all window breakers in the market are now OBSOLETE. LIFELINE FIRE™ GEN 1 and GEN 2 Tools are all-in-one multipurpose devices that cut through Laminated glass and other materials FAST.
See why our tool is STANDARD ISSUE at fire departments, and police departments around the world and military facilities in the U.S., Isreal, and Japan – ***See how fast the LIFELINE FIRE™ Tool cut laminated glass>>>
News Flash: MVA with Entrapment Testimonial From Firefighter Bandon Wayne Edwards, CFD
"Today while operating on an MVA with entrapment Engine Company 30 arrived on the scene, assessed the vehicle and decided to provide access through the windshield, for rescue and truck companies in route to the scene. Crews used the LIFELINE® Rescue Tool, a personal extrication tool to start removing the windshield for patient evaluation and access. The ease of making an access point with the butt of the tool and then transitioning to cutting the windshield and removal of the windshield was easily accomplished. Clean cuts with minimal shards and glass dust were very evident. Leaving a good access point for patient evaluation, once the windshield was removed the patient was able to walk out of the vehicle through the removed windshield and taken to ems crews for an evaluation."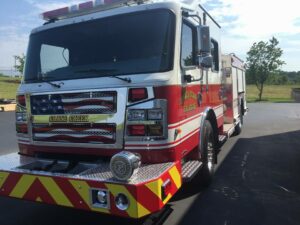 Our thanks to Firefighter Brandon Wayne Edwards for sharing his personal experience with our tool. Your account of this day reminds us that our mission to support those who help others is making a difference. ~ Team LIFELINE® Rescue Tools
Vince Rao
DOT Ejection Mitigation Laws now require automakers to make side windows from laminated glass. Traditional window breakers are designed to break a tempered glass and can not penetrate laminated windows. LIFELINE Tactical Rescue Tools [...]
Vince Rao
All LIFELINE® Rescue Tools are multipurpose (all-in-one) tools with unique design elements. Each feature is engineered to serve a specific purpose and function. Proper use ensures the effectiveness and performance of the tool in [...]
Vince Rao
Press Release FOR IMMEDIATE RELEASE April 1, 2019Press Phone: 1-844-522-5433 "LIFE" Email: CustomerSupport@LifelineRescueTools.com LIFELINE, ® Rescue Tools, Announces A New Product Launch of the 2nd Generation FIRE™ Tool for Firefighters, Plus Two New Products For [...]