MANUFACTURERS OF HIGH-PERFORMANCE SELF-RESCUE TOOLS FOR FIREFIGHTING, POLICE, EMS, SCUBA, MILITARY & OTHER COMMERICAL APPLICATIONS
The original LIFELINE® Rescue Tool is a one-of-a-kind device designed by firefighters to protect firefighters. Co-developed with Phillips Precision Medicraft, a leading medical manufacturer with 50 years of engineering and manufacturing experience, PPM's facility provides the technology and precision manufacturing needed to create a tool with the most aggressive blade in the industry.
The success, versatility, and effectiveness of the original product led to the development of a new series of professional tools for specific military, underwater, oil rigging, utility, and commercial fishing applications. The design and engineering of each new device were done with direct input from industry experts, resulting in application-specific upgrades. All feature the same high-quality materials, unique manufacturing process, and have been tested under severe conditions with outstanding results.
*All products backed by our Worry-Free Drop and Replace Policy
LIFELINE Rescue Tools ~ Engineering Innovation For High-Performance Rescue and Personal Safety Applications
We have had an opportunity to test the Lifeline Rescue Tool in our flashover facility. After multiple evolutions, the tools have held up and performed flawlessly. Our instructors were impressed with the design and quality of the tool. 

Introducing the NEW 2nd Generation FIRE™ Tool



Lifeline® Rescue Tools is proud to introduce the 2nd Generation LIFELINE™ Fire Series. Our newly updated tool features the latest developments in vision science, resulting in an ultra-bright tool with fluorescent properties for increased visibility. The latest research in vision science tells us that the human eye is more sensitive to green frequencies than any other. Accordingly, Lifeline® has now developed a color of fluorescent green that is scientifically proven to be the most detectable by the human eye.
3/16-Inch Laser Cut 100% American Made 440c Steel

Heat Resistant Thermo Plastic Sheath With Innovative Single-Handed Release

Heat Resistant Thermo Plastic Handle

Highly Aggressive Innovative Serrations

Heat Injection Molded Sheath and Handle With DuPont Zytel Heat Resistant Thermo Plastic– 572 F Melting Point

Designed to Cut Through Most Materials Encountered in Emergency Situations

Now with Ultra-bright Fluorescent properties – available in Yellow and Pink

Thick Robust Steel Creates Ideal Prying and Breaching Tool For Emergency Forced Entry

Designed to Meet or Exceed NFPA 1982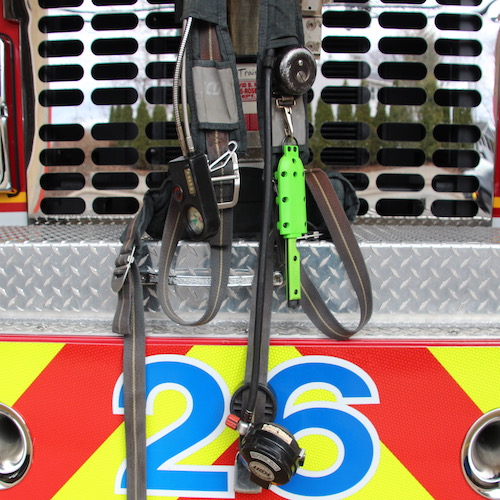 I've been using the Lifeline Rescue Tool for a year now, and it has proven itself in the field and under pressure. Thanks, Lifeline guys. I give this tool 5-stars.
News Flash: MVA with Entrapment Testimonial From Firefighter Bandon Wayne Edwards, CFD
"Today while operating on an MVA with entrapment Engine Company 30 arrived on the scene, assessed the vehicle and decided to provide access through the windshield, for rescue and truck companies in route to the scene. Crews used the LIFELINE® Rescue Tool, a personal extrication tool to start removing the windshield for patient evaluation and access. The ease of making an access point with the butt of the tool and then transitioning to cutting the windshield and removal of the windshield was easily accomplished. Clean cuts with minimal shards and glass dust were very evident. Leaving a good access point for patient evaluation, once the windshield was removed the patient was able to walk out of the vehicle through the removed windshield and taken to ems crews for an evaluation."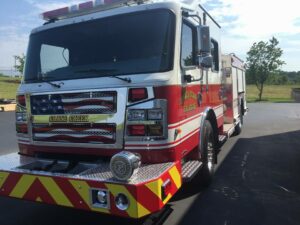 Our thanks to Firefighter Brandon Wayne Edwards for sharing his personal experience with our tool. Your account of this day reminds us that our mission to support those who help others is making a difference. ~ Team LIFELINE® Rescue Tools
Vince Rao
All LIFELINE® Rescue Tools are multipurpose (all-in-one) tools with unique design elements. Each feature is engineered to serve a specific purpose and function. Proper use ensures the effectiveness and performance of the tool in [...]
Vince Rao
Press Release FOR IMMEDIATE RELEASE April 1, 2019Press Phone: 1-844-522-5433 "LIFE" Email: CustomerSupport@LifelineRescueTools.com LIFELINE, ® Rescue Tools, Announces A New Product Launch of the 2nd Generation FIRE™ Tool for Firefighters, Plus Two New Products For [...]
Vince Rao
Lifeline® Rescue Tools is proud to introduce the 2nd Generation LIFELINE™ Fire Series. Our newly updated tool features the latest developments in vision science. The result is an ultra-bright tool with fluorescent properties for increased visibility. The [...]